2D Video zu 3D Video konvertieren
22/09/2020
DVDFab 2D to 3D Converter kann 2D DVDs, Blu-rays oder Videos zu 3D Videos oder für 3D Geräten konvertieren. Aber es kann nicht unabhängig benutzt werden, sondern nur zusammen mit DVDFab DVD Ripper, Blu-ray Ripper oder dem Video Converter arbeiten. Diese Einleitung zeigt Ihnen, wie Sie mit DVDFab Video Converter und 2D to 3D Converter 2D Video zu 3D Video konvertieren. Bitte folgen Sie mir.
Schritt 1: DVDFab ausführen, die Option Converter und dann ein 3D Profil wählen
Führen Sie DVDFab aus und gehen Sie zu der Converter Option. Für die 3D-Ausgabe können Sie ein 3D Format oder ein 3D Gerät als Profil wählen. Dies kann durch ein Klicken auf das Profilsymbol auf der linken Seite und eine Wahl bei Format oder Gerät durchgeführt werden. Dann wählen Sie ein Profil aus. Jetzt ist 2D to 3D Converter betriebsbereit.
3D Format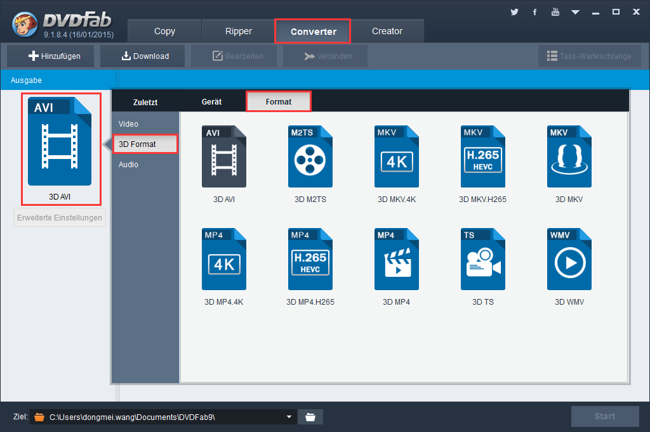 3D Gerät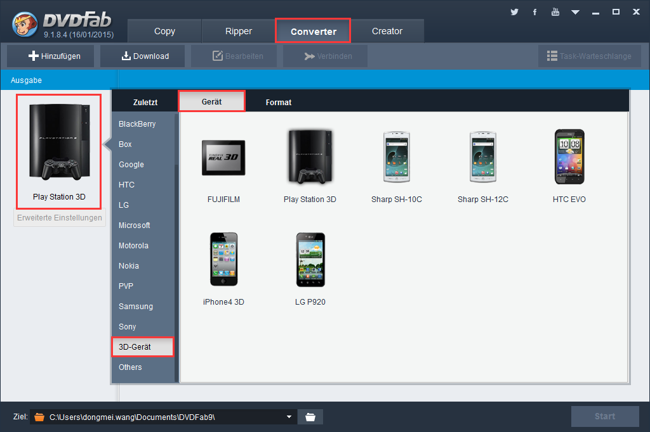 Schritt 2: Das Quell-Video laden
Klicken Sie auf die Taste "Hinzufügen", um die Videoquelle hinzuzufügen. Oder ziehen Sie die Quelldatei direkt ins DVDFab. Sekunden später wird die Quelle in sein.
Schritt 3: 3D Einstellungen machen und Video bearbeiten
Klicken Sie auf "Erweiterte Einstellungen" auf der linken Seite, dann können Sie ein Fenster zu öffnen, um Video- / Audio-Parameter und insbesondere das 3D Format. Bitte lesen Sie die Details im folgenden Screenshot.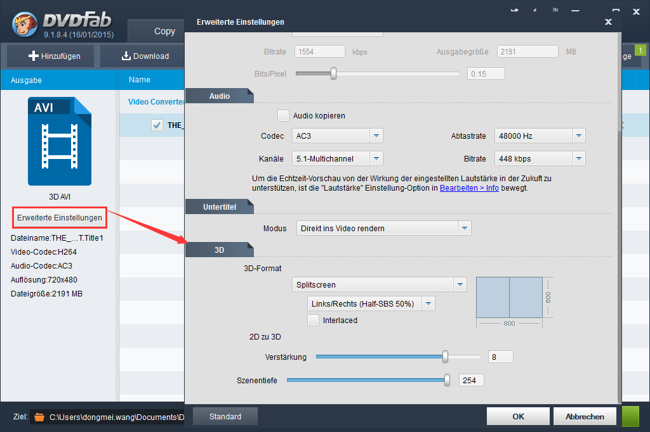 Klicken Sie auf "Bearbeiten", hier können Sie auch das Seitenverhältnis und die Lautstärke ändern, Wasserzeichen zum Video hinzufügen, und externe Untertitel wählen.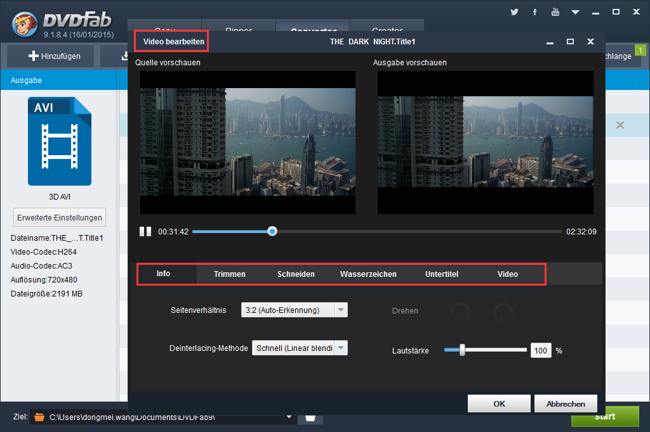 Schritt 4. 2D zu 3D konvertieren
Jetzt drücken Sie auf die Taste "Start". Während des Prozesses können Sie die detaillierte Fortschritt Infos sehen. Und Sie können auch Ihren PC zum Herunterfahren oder Ruhezustand einstellen, oder das Programm beenden, wenn alle Aufgaben fertig sind.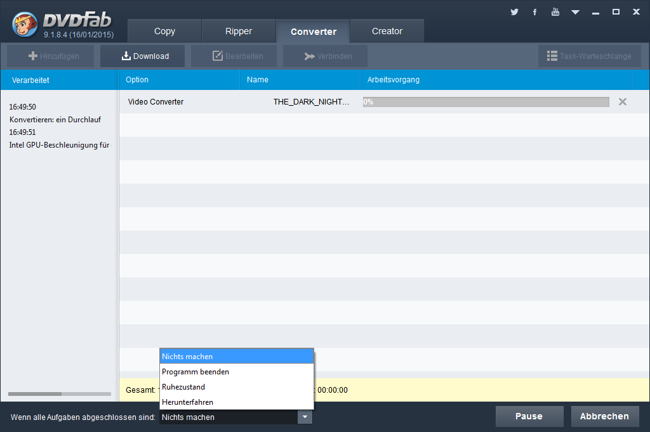 Das ist alles. Mehr Infos über DVDFab 2D to 3D Converter sind zu finden unter: https://de.dvdfab.cn/2d-to-3d-converter.htm.